Are you too late for transformation, too far gone for deliverance, too bad for forgiveness?
Do you think you've blown it too many times?  Preachers tell us all the time that God is the God of the second chance.  But what if you got the second chance, and you blew it all over again?  Many times, when people deliberately turn their backs on Jesus and return to their sin, they go back into a deeper state of depravity than they were in to begin with. Sometimes they try to be badder, meaner, do more drugs, drink more booze just to show that they never knew this Jesus in the first place.  Like they're trying to prove something to somebody, or maybe themselves.  But if you are truly saved, the Holy Spirit will still be there, in the background, and He won't let you go.  In the book, From Woodstock To Eternity, Dustin Morgan experiences this phenomenon as he tries to shake off his run-in with the Spirit.
He wanted so badly to have things like they used to be that he thought he could bludgeon this resistance into submission by continuing to cram beer and pot into his system.  He

was bound to desensitize himself against the checks and balances the Holy Spirit was putting up. 
Before he got saved, he didn't really believe that God could get inside of his brain and start working on him, but he was skeptical enough that he didn't want to risk it.  That's why he didn't want to get saved in the first place.  And now, here it comes.  It's tough when God talks to you every time you get stoned.
So, let's say after a fall like this, you try to pull yourself back up and make another commitment to follow the Lord.  That would be chance number three, right?  Then you fall again and get drunk, or get high, or do something stupid.  How many times is God going to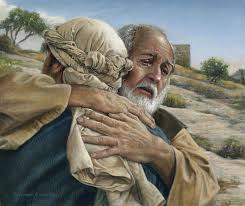 take you back?  Matthew 18:22 says,
Then Peter came to Him and said, "Lord, how often shall my brother sin against me, and I forgive him? Up to seven times?"  Jesus said to him, "I do not say to you, up to seven times, but up to seventy times seven."
In other words, as many times as it takes to bring you to total repentance and deliverance.
The definition of Mercy is:  God punishing us less than we deserve.  We may not deserve forgiveness, but God gives it to us anyway.
The definition of Grace is:  God's power to do what He tells us to do.  With His grace, we can ultimately and completely quit our old ways and follow His ways.