Price Reduced for Christmas! Get $5.00 off From Woodstock To Eternity!!
Two discounts are now available for the wild tale of deliverance – From Woodstock To Eternity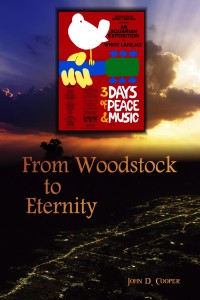 Go to www.createspace.com/4936312 or search From Woodstock To Eternity in the Createspace.com store and enter discount code RAXXKE82
Get the reduced price of $14.95 for From Woodstock To Eternity.
Go to Amazon to get the Kindle version of From Woodstock To Eternity for only $2.99
These Discounts Will Go Through The New Year 2017!!!
For those who have not yet read this book, it is a highly entertaining story of the hippie era and a moving tale of deliverance. For this Christmas season, it is a stirring account of what Jesus can do to transform a life.
Amazing Real Book
May 2, 2015
Amazing Real Book!!! Thank you for writing it and then Sharing it with us!!! Oh how I
remember the days of my youth!!! My Parents were so right about my music and lots of other things!!! I see now that I am older, THANK YOU AGAIN !! Loving the readings in this BOOK!!!
LIVE THIS ADVENTURE YOURSELF
May 2, 2015
INCREDIBLE, VERY ENTERTAINING,GETS YOUR ATTENTION IMMEDIATELY AND DOESN,T LET UP.
WOW!!!!! FROM ANOTHER PERSON WHO ATTENTED WOODSTOCK. THE READER WILL GET THE
FEELING THAT THEY ARE ACTUALLY THERE, LIVING THIS ADVENTURE. YOU ARE LEFT TO FORM
ON OWN CONCLUSIONS ON WHAT IS RIGHT OR WRONG, THE MORAL IMPLICATIONS OF DECISIONS
MADE BY DUSTIN MORGAN ARE OPEN TO INTERPRETATION. AWESOME!!!! I HIGHLY RECOMMEND
THIS
Powerful!
January 21, 2015
There is only one possible way this man could have lived through all of this and come out of it mentally stable, emotionally balanced, and spiritually whole. This is the power of God. I promise, you will not regret reading this book!
 You made me feel like I was on the plane with you. Actually, I think I would have been in the "drop zone" waiting for the goodies! Very descriptive, accurate, and well-written. Rick Blaisdell -Pastor Renewed Life in Jesus Church and Author of One Life to Give-Living Water for Thirsty Souls.
 It arrived from Amazon Saturday afternoon and I finished it Monday morning. Couldn't put it down. It was really intense.